If you are anything like Phillip and I, and are still in the beginning stages of purchasing your RV, then you flip flop between getting a fifth wheel and a standard travel trailer.
We originally planned to get an Airstream Flying Cloud travel trailer until we found out we were expecting our first baby girl!
From then on, we seriously questioned if we needed to focus on an RV with 2 bedrooms. We quickly noticed some of the best options came from both travel trailers and fifth wheels.
Although, we were both a little nervous about the possibility of pulling a fifth wheel… They just seem more intimidating. I know we can't be the only ones who feel that way, right?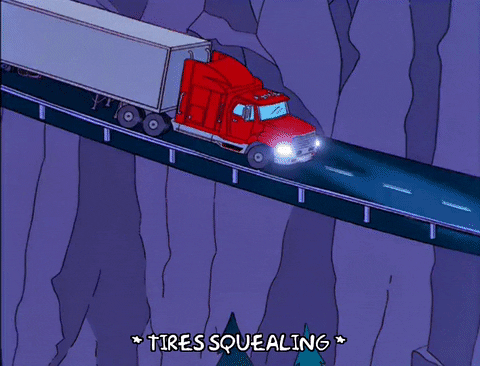 Anyway, we want to make sure we are making the right decision for us and our growing family so I decided to get dirty with the details and fully compare fifth wheels vs travel trailers.
So far, I've learned there are many unique characteristics between a 5th wheel and travel trailer that reach far beyond how it's hitched to your truck. With some models, it's pretty clear which one would be better for certain lifestyles and situations. Yet, there are sometimes hidden pros and cons a novice RV wouldn't know to look for.
But let me stop with the hints here and share the details of everything you may want to know when comparing a 5th wheel versus a travel trailer!
Fifth Wheel RVs
Let's start with a quick breakdown of both options. Starting with the fifth wheel, often referred to as the "fiver," is a favorite of many full-time RVers. Especially those with bigger families.
The "fifth wheel" refers to the U-shaped fitting mounted onto the bed of the tow truck. A pin box on the front of the fifth wheel locks onto the fitting on the truck. This creates a pretty prominent overhang that rests above the tow truck bed.
Typically in this area of the RV, you will find a bedroom suite. Although RV builders are getting more creative and new models are starting to add living rooms or kitchen areas in this area.
Travel Trailer RVs
Then there is the most popular type of RV, the standard travel trailer. When this type of RV first took off in popularity, it was referred to as a "bumper-pull" camper. That's because when they first came out they were attached to car bumpers.
Over time and with a bit of innovation, they transformed to be pulled by a hitch connected to the frame of the tow vehicle. The new hitch also comes equipped with safety hardware to make towing easy and secure.
What's great about travel trailers is that they can truly come in all sizes. For instance you can get a tiny teardrop trailer that only fits a mattress inside, or you can get a massive trailer that resembles a home (bathroom, kitchen, sliding glass doors, and all!)
Similarities Between Fifth Wheels and Travel Trailers
It may or may not come as a surprise, but there are a lot of similarities between these two types of RVs. First, both fifth wheels and travel trailers are easily detachable from the tow vehicle.
This is a great perk, because you can get a more permanent camp site set up and then take your tow vehicle out on an adventure exploring the area. You won't have to worry about losing your campsite everytime you leave and you also won't have to spend any money renting a car, or using uber.
You'll also find that most 5th wheel or travel trailers are much more affordable than a similarly sized and aged motor RV. This of course is not a blanket statement! There are some scenarios where you are looking at a very luxurious fifth wheel model and it will cost more than the comparable Class A motorhome.
What I really enjoy about the towable RVs is that they require significantly less maintenance than a drivable RV. When there is no engine to worry about, it really makes things easier to manage. Not only could it be more difficult or more expensive to find parts for a motor RV engine, but every time you need to get the engine serviced you have to give up your home.
If you have a dog and a cat, like us, that can be quite inconvenient…While you can bring a dog to a number of places, cats are a little different.
Differences Between Fifth Wheels and Travel Trailers
Now that we've worked through some of the similarities, let's get to the meat and potatoes of the matter. What are the differences and why would you choose one type of RV over the other?
From the first review, it's clear RVers who want that extra space for more long-term travel typically choose the 5th wheel model. It makes sense too. While you can find large travel trailers that meet the lengths of 5th wheels, 5th wheels are often easier and safer to tow.
If you're very price sensitive with this purchase though, travel trailers are often much less expensive than a fifth wheel. They also come in a wider variety of styles.
These aren't all of the differences, but it will be important to prioritize each of these factors to help make your final decision. Would you rather have an easier tow and pay a higher price or pay less and work with the towing capacity of a travel trailer?
You don't have to decide right now, let's look at all of the other differences between fifth wheels and travel trailers first.
Tow Vehicle Seating Arrangement
If you're towing a fifth wheel, there's no way around it, you'll need to use a pick up truck as your tow vehicle. You'll have to make sure the truck is compatible with a fifth wheel and if it can handle the GVWR (Gross Vehicle Weight Rating) of the RV. If you have a large family, will you be able to fit everyone in the truck on travel days? Are you considering where the dog will sit too?
There are some states that allow passengers to travel in the fifth wheel while in motion, but it does come with restrictions and you will have to keep those in mind to avoid breaking any laws (more on this later).
If you're towing a travel trailer, there are other SUV options you can use for pulling your RV. This will allow for more room in the car on drive days, but may (or may not) decrease space in your RV.
Anyway, you'll definitely want to keep this in mind before you pick your RV.
Ease of Towing
We mentioned this briefly earlier, but the 5th wheel is much more stable and easy to tow than a standard travel trailer. The design of the fifth wheel allows the RV to put more weight between the axles on the tow vehicle bringing the center of mass forward. This helps with the turning radius and maintaining control of your RV when in motion.
If you are nervous about towing a large vehicle, this could be an excellent option for you.
We also learned that it is significantly easier to hook up your tow vehicle to a fifth wheel than it is a trailer. So you can take note of that as an added benefit.
Truck Bed Storage
If you opt for a fifth wheel trailer be prepared to lose almost all of the truck bed storage. You may be able to fit smaller items, but nothing large like kayaks or strollers.
You won't have this problem at all with a regular travel trailer. Since they connect at the hitch, you will have the entire truck bed for storage while traveling.
There are fifth wheel models that acknowledge this lack of truck bed space and added a large area for storage at the front of the trailer. You will just need to make sure it can make up for the space you've lost in the truck bed and fit the items you need.
Cost
You'll quickly notice when searching for your new RV that 5th wheel trailers are quite a bit more expensive than travel trailers. This is typically because they are larger, use heavier materials, sometimes have better amenities, and have a more intricate tow setup.
Understanding if the cost is worth it for you, will all come down to walking through the different travel trailer and fifth wheel models and deciding if the extra perks match the increased price.
Multiple Floors
All fifth wheels will have a second floor or sorts that take steps to get to. This is because the front of the trailer will be lifted to attach to the tow truck. This can create more privacy between rooms and block more noise from other areas of the RV.
If there is anyone in your family that has a difficult time getting around, you'll need to take this into consideration and if they can manage to (or want to) walk the extra steps every day.
Equally, if you have babies (like Phil and I) then can you make a baby safe to avoid injuries!
Total Length
Let's say you are considering a 33 ft travel trailer and a 33 ft fifth wheel and you are new to towing large trailers and know you will be RVing in tight campgrounds. If making your towing easier is a big priority to you, then you may be better off choosing the fifth wheel in this case. Why?
Well, a couple of those feet (probably 3 feet) are now over the truck bed, making the trailer a bit shorter. Not only will it be easier to turn and maneuver the trailer while connected, it will be much easier to get into smaller camping sites.
Fuel Economy
We decided to buy a diesel pickup truck when we made the decision to become full-time RVers. Switching to diesel caused an increase in our monthly gas costs that we were both anticipating, yet still shocked by. Maybe that is because gas prices are just crazy nowadays… Either way, it was a drastic difference.
If you're financially limited and plan to travel often, then you will want to keep in mind that 5th wheels are typically heavier than travel trailers. This increase in weight will reduce your fuel efficiency, regardless of the vehicle you're using to tow, causing you to pay more to keep driving.
Weight Limitations
As we just touched on above, 5th wheel RVs are typically much heavier than their travel trailer counterparts. Weight is a necessary factor to consider when choosing your RV because you need to make sure your tow vehicle can effectively and safely pull your rig.
Phil and I bought a Chevy Silverado 2500HD Turbo Diesel and while that can definitely pull HEAVY weight, there are still many fifth wheels out there it cannot pull. Which automatically takes them out of the running for us.
Inner Height of the RV
Phillip stands tall at around 6'4". As you can imagine, he tends to hit his head often on things that hang low from the ceiling, but it also means he's always the easiest person to spot in a crowd. There's always pros and cons to consider.
When it comes to picking an RV, if you have a tall member of the family or just feel claustrophobic sometimes, then ceiling height can become an important factor.
Fifth wheel trailers on average have higher ceilings in the living area than a travel trailer. If you feel like stretching while standing, this can be a nice little perk. Whenever Phil and I walk through travel trailers we notice Phil can't even put his arms up.
Now the portion of the rig that sits over the truck bed will be shorter typically, so you can't win it all. But good to know, when weighing the options.
Luxurious Features
We've been talking a lot about financial restrictions or easy towing, but I know there are buyers out there not worried about either of those areas and just want a luxury and quality RV. If thats the case for you, then you'll most likely want to look at fifth wheel RVs.
Travel trailers have more limited weight restrictions and for this reason usually don't get as many quality appliances and materials used in its build. However, there are many 5th wheels available that can withstand the heavier load so they offer both high-end interior design and appliances.
Boondocking
If you are going to spend more time boondocking than at an RV park or campsite, then a travel trailer could be the better option. Oftentimes a boondocking spot is a little trickier to get to with your RV because of dirt roads, icy roads, low hanging trees, and other things.
If you're carrying a heavy fifth wheel on a downward dirt road, it can get a little stressful and sweaty in the driver's seat. Equally, if the path is covered with overhanging trees, there is more of a chance they will damage the very tall fifth wheel as opposed to the shorter trailer.
Second Tow
If you will have situations where you need to have an additional trailer, ATV, or boat trailed behind your RV then you may want to seriously consider the fifth wheel. Not only is it much easier to tow from the back on the fifth wheel than on a travel trailer, but some states will only allow fifth wheels to tow something.
Added Space from Slide Outs
If you are having a hard time thinking about camping or living in a small RV, than you want to consider how many slide outs your RV has. The slide outs really increase the spaciousness inside the RV and fifth wheels can have up to 5 slide outs. Typically you'll only find one or two slide outs on a travel trailer because they do add a lot of weight to the rig.
Storing Your RV
If you're buying an RV for seasonal travel or shorter trips, then you will need to consider your storage options for when its not in use. While a travel trailer will typically fit in almost any commercial facility, you may not find as many options for a fifth wheel. This is because 5th wheels are much taller so your options for covered storage units are both more expensive and more limited.
States Allowing Passengers to Ride in Towables
I told you we would dive into this a bit more, so here we go! You'll find in the list below there are a couple of states that will allow you to ride in the travel trailer or fifth wheel or only a fifth wheel. Fifth wheels are considered safer which is why some states opt to only allow passengers in them and not travel trailers.
Don't take this list as legal advice to ride in your RV if you are in one of these states. Check with your state's laws on the official state website as laws change so frequently.
States Where You Can Ride in a Travel Trailer or Fifth Wheel
States Where You Can Ride in a Fifth Wheel Only
Final Thoughts
Choosing between a fifth wheel RV and a travel trailer depends on various factors like budget, size, convenience, and the vehicle you already have.
Fifth wheel RVs are typically more spacious and comfortable, offering more luxurious amenities such as separate bedrooms and full bathrooms. They provide excellent stability on the road and typically have more storage. However, they require a heavy-duty truck for towing, which could be an additional cost if you don't already own one. They can also negatively impact fuel efficiency due to their size and weight, and their large size may restrict the campgrounds you can access.
On the other hand, travel trailers are generally less expensive, both upfront and in terms of ongoing maintenance. They're lighter and smaller, providing better fuel efficiency and easier maneuverability. They can also be towed by a wider range of vehicles. However, they might not offer as much space and amenities as a fifth wheel, and some people find them less stable to tow.
Both have their pros and cons, and the best choice depends on personal preferences, travel plans, and the vehicle you already own. It's best to assess your needs, budget, and expectations before making a decision.